'Cyclehoop Trips' is our platform for secure short term cycle parking in town/city centres and cycle journey destinations. It operates using the Cyclehoop smartphone app, and a fleet of bike storage units equipped with our bespoke electronic access lock. The Cyclehoop App is available on the Google Play store and the Apple app store.
A set of frequently asked questions about Cyclehoop trips is listed below. Can't find what you're looking for? Please contact us.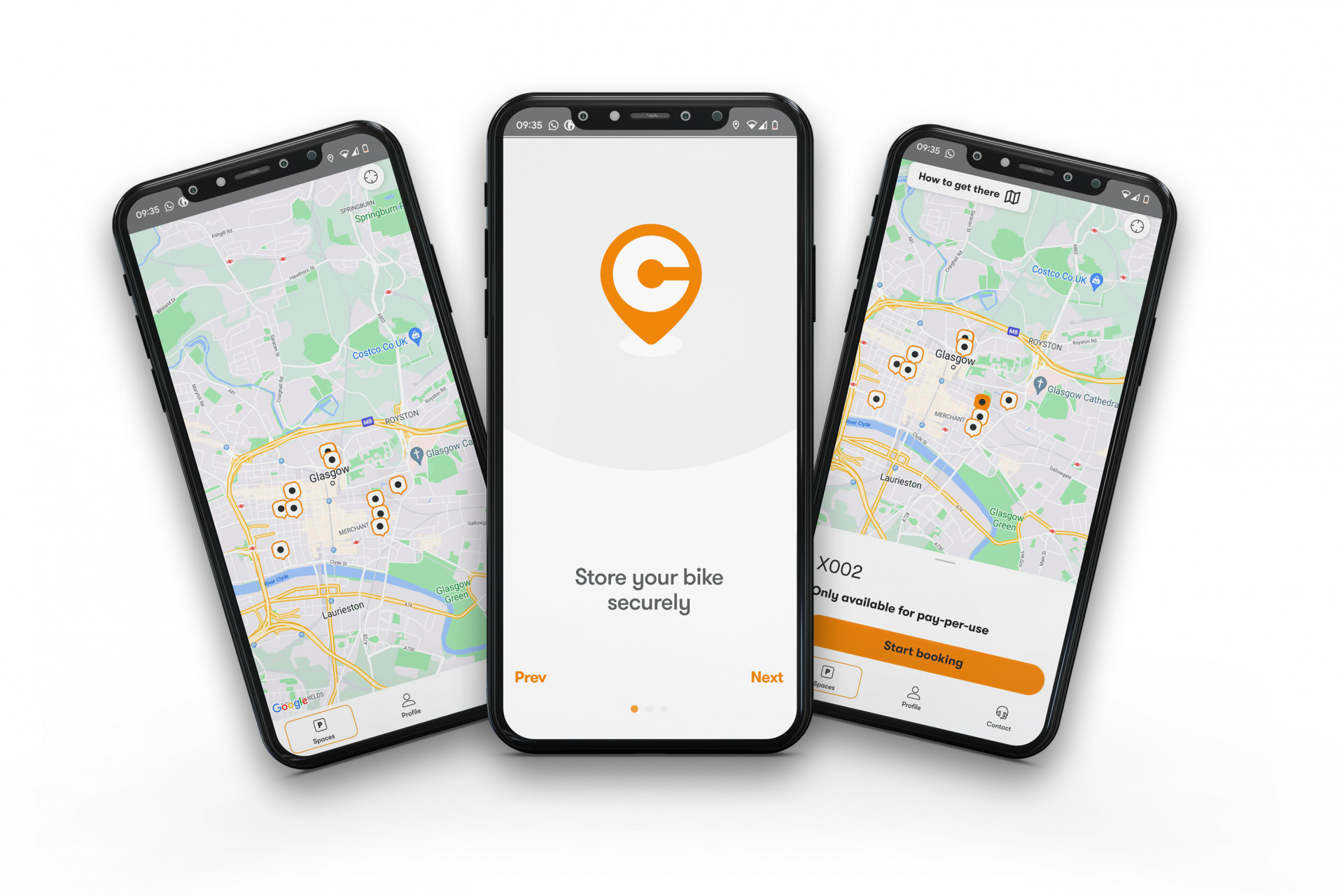 ---
Is the cyclehoop app compatible with my smartphone?
The Cyclehoop app is designed to be compatible with the vast majority of modern smartphones. Your phone must have access to either the Google play store or the Apple app store. Bluetooth and location services (GPS) must also be enabled.
Do I have to park my bike in a particular space within the Bikehangar?
Yes. Please park your bike in the space allocated to your booking within the app. Each Bikehangar has six spaces, marked A, B, C, D, E, and F. It is important that you park in your allocated space, this helps us identify the correct bikes in the rare event that a bike is abandoned or parked without a valid booking.
The latch won't turn when I press unlock in the app, what should I do?
When you press 'unlock' in the app, your phone sends a signal to the lock via Bluetooth which releases the latch. Push down on the door handle as you turn the latch. If you do not push down on the handle, the latch may be stiff, or impossible to turn altogether. The lock will re-engage automatically after 5 seconds, if you have not turned the latch within this timeframe, you will need to press 'unlock' in the app again.
If the app does not detect the lock, it will show an error message that tells you the lock is out of range. If this error is shown, check that you have selected the correct Bikehangar in the app by matching the number on the door with the unit in the app, eg 'X002', or try again ensuring your handset is close to the lock.
Do I need to lock my bike while it's parked in the Bikehangar?
Yes, we recommend you lock your bike when it is stored in the Bikehangar. This keeps your bike secure in the rare event that the door is left open.
I have an e-bike, can I store it in the Bikehangar?
Yes, provided it fits within the maximum dimensions – height 1200mm, length 1800mm x handlebar width 750mm. Please check the dimensions carefully before parking, include any accessories such as mudguards, baskets and mirrors etc. Do not store any removeable hardware such as batteries and head units in the Bikehangar.
The app says there are spaces available, but when I started my booking and opened the Bikehangar, all the spaces were full. What should I do?
If you start a booking and all of the spaces are taken, it means that one or more bikes have been parked without a valid booking. Please take a photo and send it to rentals@cyclehoop.com to help us investigate. We will reinstate the credit on your account.
My phone battery died during my booking, what should I do?
If your handset is not available, we recommend downloading the app on a different handset. You can log into your account, access the Bikehangar and end the booking as normal. If you do not have a handset available to end your booking, please email us at rentals.cyclehoop.com. In some circumstances we may be able to reinstate the credit on your account. Please note, we cannot open the Bikehangars remotely. If you cannot access the app to open the Bikehangar and retrieve your bike, we may need to coordinate a visit within business hours.
Can I book more than one space at a time?
Yes, you can book multiple Bikehangar spaces at the same time. This is especially useful when cycling in a group. Simply repeat the booking process, each active booking will appear in the 'spaces' tab. Please note, you will need to press 'End Booking' on each individual booking when your group has finished parking. Each booking will be charged at the standard rate.
Can I leave my helmet and accessories in the Bikehangar?
No, you cannot leave your helmet or any loose accessories in the Bikehangar. Accessories such as childseats and panniers may cause an obstruction to other users.
My bike was stolen from inside the Bikehangar, can I claim for a replacement?
No, you cannot claim for a lost bike or any other item stolen from within a Bikehangar, either from Cyclehoop or from the local authority that owns the Bikehangar. Your bike is parked in the Bikehangar at your own risk. While thefts from Bikehangars are rare, we recommend locking your bike to the racking when parking.
I can't find the Bikehangar on the map within the app, why not?
If a Bikehangar does not appear on the app, this could be because it is part of our residential Bikehangar scheme, these are not available for public use. All the Bikehangars on the trips scheme have a number preceded by 'X' eg 'X001'. If a unit with an X prefix does not appear on the map, this means it has been taken out of service.
My account ran out of credit while my bike is still in the Bikehangar. What happens now?
If the cost of your booking exceeds the credit in your account, your payment card will be charged the outstanding balance. You will still be able to open the Bikehangar, retrieve your bike and end your booking, but you will not be able to make another booking until you add credit to your account.
I wish to stop using the service, can I have a refund for the credit in my account?
No, unfortunately we cannot offer refunds for unused credit in your cyclehoop trips account. Refunds can only be issued in exceptional circumstances, at the discretion of our rentals team.
I am a regular user, is there a subscription or special pricing for long term use?
Currently there is no subscription plan or pricing model for longer term use. We are investigating ways to make the scheme as user-friendly as possible. Please let us know what your usage scenario would be, this helps us gauge demand and find the best solution.
I tried to add credit to my account, but my balance did not update, why not?
If you tried to add credit to your Cyclehoop account, but the balance did not update, it is possible that the transaction was interrupted by your bank/card issuer. In this event your bank may contact you to authorise the transaction. Once you have given authorisation, please repeat the process to top up your balance within the app.
I can't end my booking. What should I do?
You must have a validated bank card set up on your account to end a booking. Some banks require an authentication step before they will allow a payment method to be set up on your account. Check for messages from your bank or contact them to confirm it has been authorised.